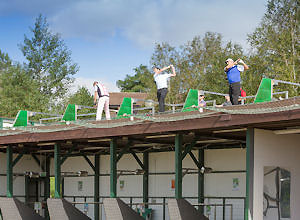 • "The 33 bay floodlit driving range at Broome Manor Golf Complex is one of the best ranges in Wiltshire and any search for golf ranges or golf lessons should start here !! "
• Every Monday from 10:00 to 21:30

• Summer Monday to Friday 08.00-21.30, Saturday and Sunday 06.00-21.00

• Winter Monday to Friday 08.00-21.30, Saturday and Sunday 08.00-18.30
last balls sold 45 minutes before these closing times.
SWINDON PREMIER GOLF ACADEMY
Operates from the floodlit golf range at Broome Manor and is the best way to learn golf in Swindon. Individual, Junior and Adult group golf lessons are always available.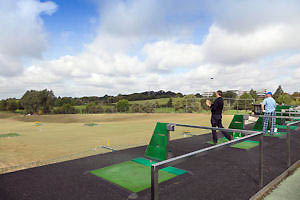 We aim to help improve your golf but at the same time make the golf lessons experience Fun - which is the best way to learn golf Swindon offers many golf learning facilities but few as good as Swindon Premier Golf Academy. On the green or fairway and even from the rough you will improve your driving, short and long iron play, short game and putting rapidly!

60-MINUTE PLAYER EVALUATION WITH VIDEO


LEARN GOLF IN A MONTH


LADIES' GOLF LESSONS - GROUP COACHING

SENIOR GOLF LESSONS - GROUP COACHING

GOLF for KIDS – JUNIOR GOLF LESSONS
6 WEEKS COURSE

With Swindon Premier Golf Academy we have a dedicated team, with a wealth of experience in each specialised teaching discipline including junior golf, driving, iron play and short game including putting practice.
SWINDON PREMIER GOLF ACADEMY
based out of the Golf Range, the putting green and short game practice area, provide a truly personal service with professional, friendly and knowledgeable accredited PGA golf instructors. All our staff in the pro shop receive continual training on a monthly basis, helping to further their golfing knowledge
.
For further details on SWINDON PREMIER GOLF ACADEMY please visit the website:
• Driving Range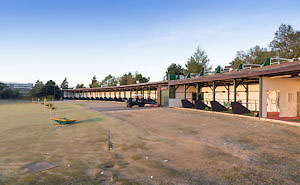 Broome Manor Golf Complex has one of the best floodlit driving ranges in the area, with 26 covered, floodlit bays and 7 open-air bays.
The driving range caters for both left and right-handed golfers and for specialist coaching sessions. High-quality mats and balls will make your practice session a more enjoyable experience. A variety of targets are provided to ensure you get the most from your session.
No pre-booking is necessary, just turn up at any time during opening hours. Club hire is available if needed and juniors are also welcome to the driving range (children aged 12 and under must be accompanied by an adult).
• Golf Ball Dispensers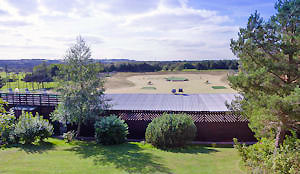 Two state of the art ball dispensers provide clean and washed balls every time. Buckets of balls (72 or 120) can be purchased directly at the machine using a debit/cred card or from American Golf, where you will be given a barcode, or simply use your Loyalty Card directly in the dispenser where you will be able to view your account with a personal greeting each visit. Small baskets (24 balls) are available before 5 pm via American Golf Shop for £4.50.

• Loyalty Cards
Loyalty Cards with a minimum top-up of £50 can be obtained from American Golf, this will give you a 20% discount on normally priced range balls.
• Driving Range prices

• Large basket of balls (120u.)

£10,00

• Medium basket of balls (72u.)

£8,50

• Small basket of balls (24u.)
Before 5 pm

£4,50
Card payments only, sorry but cash is no longer accepted.
The Golf Range is open to everyone and no membership is necessary. Just turn up and hit some balls. It is not necessary to book or call ahead; there is always plenty of space. For Membership Information please email us: membership@broomemanorgolf.co.uk


Club Hire is available for those who don't have any Clubs and don't worry if you have never played before just come along and give it a go. You may discover you are rather good at it.

We do ask that for safety reasons you read and respect the rules of the Range which are published on-site and that Children are accompanied at all times by their parents.

Lessons Booking Line 07919 375461

- and by the way you won't find a golf range for kids in Swindon as close to the Town Centre of Swindon as this one so less driving for the parents!