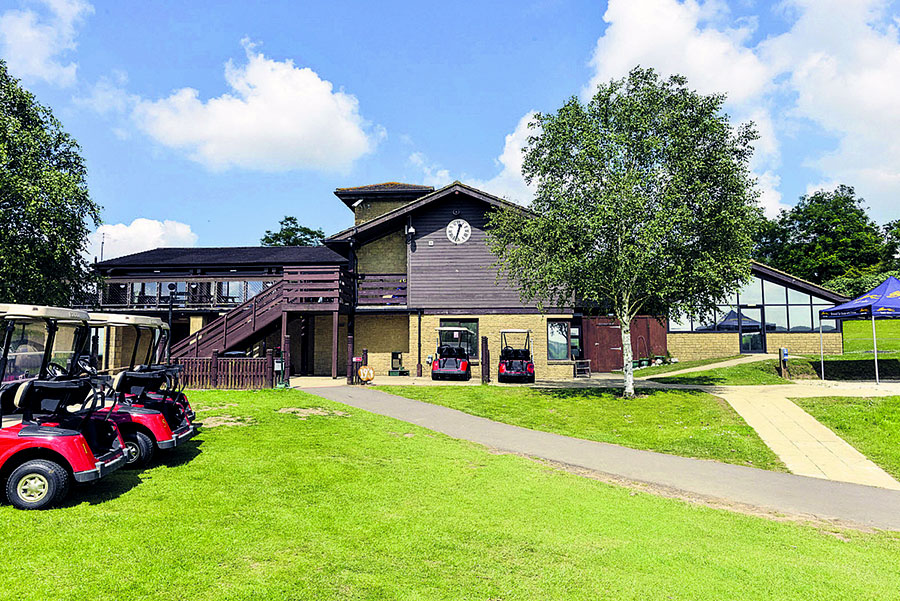 Broome Manor Golf Club is a stunning 27 hole public Golf Course and Golf Range in Swindon - Book online or call 01793 532403 - We also have 2 function rooms for hire
If you are looking for a Golf Club in Wiltshire we are the best located and friendliest club in Swindon and being just 5 minutes from the M4 Jnc 15 or 16 we are the most accessible Golf Club in Wiltshire.

Voted the No 1 Public Golf Course in the South West
Broome Manor golf course is one of the best examples of a public golf course in the UK and voted the Number 1 Public Course in the South West of England for the last 5 Years. Offering exquisite views over the beautifully maintained landscape just to the south of Swindon Old Town. With its 18 hole and 9 hole golf courses, combined with driving range and golf lessons and tuition, Broome Manor golf course is perfect for those looking for good value golf in Wiltshire.
With the facility to book your tee time online and reduced prices for midweek and evening golf, it couldn't be easier to book a game of golf at Broome Manor Golf Complex in Wiltshire.
Golf Buggies, Club Hire and Trolly Hire
Book your Buggy online as part of a package and SAVE on the regular price for Buggy Hire. 18 Holes and a Buggy Packages will be available online for Summer 2015 Season. We also act as a Golf Cart Path or Buggy Path Construction Contractor for other Golf Clubs so if your course needs some paths why not get in touch with Jeremy by sending a message via the Enquiry form on our Contact page. Club Hire and Trolly Hire is available and there is no need to advance book for these items... Read More...
Golf Society Days / Corporate Golf Wiltshire
Broome Manor Golf Club is one of the top destinations for golf society days and corporate golf events in Wiltshire. For further details of our golf society and corporate golf packages, please visit our golf societies page.
Driving Range Swindon
The floodlit driving range at Broome Manor Golf Complex offers 33 covered bays and is the best golf driving range in Wiltshire. Open until 10pm on weekdays and 6.00pm at the weekend, why not visit the driving range at Broome Manor golf course in Swindon.
Golf Lessons / Golf Tuition In Swindon
The Swindon Premier Golf Academy team at Broome Manor golf course possess a wealth of knowledge and experience in providing specialised golf lessons and golf tuition on a number of areas including junior golf, driving, iron play and short game including putting practice. Find out more about our golf lessons and golf tuition at Broome Manor Golf Club.
Halls for Hire in Swindon
The
Function room
at

Broome Manor Golf Club is a perfect Wedding reception venue. One of the most popular
Halls for Hire in Swindon
it is also regularly hired for Christmas Parties, Christenings, Weddings, Wakes and as a Conference venue.
Low Cost Gym in Swindon
Broome Manor boasts a small and very friendly low cost gym with monthly memberships from as low as £16.95 per month. Especially popular with the locals we are hoping to double in size during 2015.

Golf Business Operations and Golf Consultancy Services
Since 1990, Jeremy Sturgess, the operator of Trent Park Golf Club and Broome Manor Golf Club has been involved as the owner and operator of 4 daily fee or Pay and Play golf courses in the United Kingdom. Since 2007 he has also been involved as the founder and Co Developer of Ancient Sands Golf Resort in El Gouna, Egypt, a USD 500 million development project comprising an 18 hole Karl Litten designed Golf Course and 800 residential units scheduled to open in 2014.
After a 24 year career in this industry as an owner operator he offers business consultancy services to Daily Fee Golf Course owner operators, Resort developers, Landowners, Banks, Investors, Local Authorities and Private Equity companies on a worldwide basis who are seeking to maximise performance from Golf operations and development...
Why not save yourself a lot of heartache and money before you plunge into this business and email him today to set up an initial FREE consultation at manager@broomemanorgolf.co.uk
Be warned ! He may not tell you what you want to hear ......Read More...

Future plans
Twigmarket Ltd, the leaseholders of Broome Manor Golf Club will be applying for planning permission to add additional activities on the site to reduce the reliance on Golf Revenues which are in structural decline throughout the UK and to secure the long term viability of the facility. For the interest of our Customers the plans for these new activities will be available on site when they are finalised. Works will commence when all the necessary planning permissions are in place.
About Twigmarket Ltd. Co No 2518795. VAT No 581714041. Regd Office 25 Harley Street, London W1N 2BR

Twigmarket Ltd was formed in 1990 by Jeremy Sturgess and Nigel Sturgess to acquire Lime Trees Park Golf Club, a 9 hole public golf course and driving range, held on a long lease from London Borough of Ealing.Since 1992 Twigmarket has owned Trent Park Golf Club, North London's busiest Public Course and Driving Range, held on a 125 year lease from London Borough of Enfield and in November 2014 Broome Manor GC and Highworth GC joined the group.

The Company has a long established reputation in the Golf Industry as managers of Local Authority owned golf facilities. Jeremy Sturgess is also involved through his ownership of IFB Resort Developers Ltd as co - developer of the $500m Ancient Sands Golf Resort on the Red Sea coast at El Gouna in Egypt in a Joint Venture with Orascom Development Holding, the Swiss Stock Exchange listed company

(www.ancientsandsresort.com)
Book a tee time - Green Fees - Online Tee Times - Golf Days - Golf Societies - Corporate Golf days - Golf Lessons - Driving Range - Golf Shop- Low Cost Gym - Weddings & Functions -Huge FREE Car Park - Golf Consultancy​